Polling day is on Saturday 2 July. Voting is compulsory.
If you are unable to attend an early voting centre or a polling booth on polling day, you may be eligible to apply for a postal vote.
Please note that registered declaration voters are automatically sent ballot papers and are not required to lodge a new application.
Eligibility to apply for a postal vote




You are eligible to apply for a postal vote if, on polling day, you:

are more than 8 km from a polling booth
are travelling
are ill, infirm or disabled – preventing you from attending a polling booth
are caring for someone who is ill, infirm or disabled - preventing you from attending a polling booth
are due to give birth shortly
have religious beliefs preventing you from attending a polling booth
are working and unable to leave your workplace to vote
are a resident of a declared institution being a hospital, convalescent home, nursing home, home for the aged, hostel for the aged or infirm, prison or other places of confinement
are subject to a direction under the Emergency Management Act 2004 requiring you to quarantine or isolate during the hours of polling
How to apply
You must complete, sign, and submit a postal vote application.
You are required to hand-sign the application and have it witnessed, as digital signatures are not accepted. The last day the Electoral Commission SA can receive applications is on Thursday 30 June at 5:00 pm.
Download instructions
Download the postal vote application and complete the fillable sections
print the application
sign the application (digital signatures are not accepted)
scan and email your application to

This email address is being protected from spambots. You need JavaScript enabled to view it.

.
Download postal vote application
You can also pick up an application from the following Australia Post outlets or call us on 1300 655 232 and we will send you one.
Australia Post outlets




| Post office | Address |
| --- | --- |
| BURNSIDE LPO | 502 GLYNBURN ROAD, BURNSIDE |
| KENSINGTON PARK LPO | 259 KENSINGTON ROAD, KENSINGTON PARK |
| MAGILL LPO | 556 MAGILL ROAD, MAGILL |
| FULLARTON LPO | ARKABA VILLAGE CENTRE, SHOP 13 180 GLEN OSMOND ROAD, FULLARTON |
| GLEN OSMOND LPO | 365B GLEN OSMOND ROAD, GLEN OSMOND |
| KENSINGTON GARDENS LPO | ERINDALE SHOPPING CENTRE, 365B KENSINGTON ROAD, KENSINGTON GARDENS |
| LINDEN PARK LPO | 93 DEVEREUX ROAD, LINDEN PARK |
| NORWOOD SOUTH LPO | 47 KENSINGTON ROAD, NORWOOD |
| GLENSIDE POST SHOP | BURNSIDE VILLAGE SHOPPING CENTRE, SHOP 59A 447 PORTRUSH ROAD, GLENSIDE |
| NORWOOD POST SHOP | SHOP 20 161 THE PARADE, NORWOOD |
Mail-out of ballot material
Postal voting packs, that include your ballot paper, are sent after the declaration of nominations is conducted and ballot papers are printed. The first postal vote mail-out will occur on Monday 20 June 2022.
Marking your ballot paper and returning your envelope
You must complete your ballot paper before 6:00 pm on election day, Saturday 2 July 2022.
Post your ballot paper, using the reply-paid envelope, to the SA Electoral Commission so it is received no later than 7 days after the close of polling.
You can also hand-deliver the envelope to:
an electoral officer at any polling booth during opening hours
the Electoral Commission SA office

Level 6, 60 Light Square
Adelaide SA 5000
How to complete your ballot paper
When voting in the by-election you will be given a green House of Assembly ballot paper listing all candidates contesting the election.
To ensure your vote is counted, you need to number every square on the ballot paper in the order of your choice.
Write the number 1 in the square next to the candidate who is your first choice
Write the number 2 next to your second choice
Continue by placing the numbers 3, 4, 5 and so on until you have a number in every square.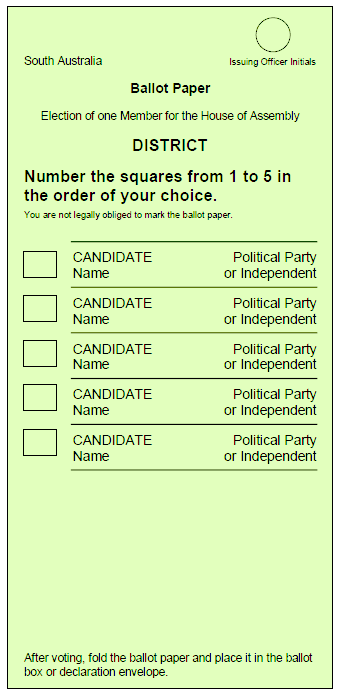 If you need assistance or make a mistake please see an electoral officer.
You can practice making a formal vote by using our interactive ballot paper below: